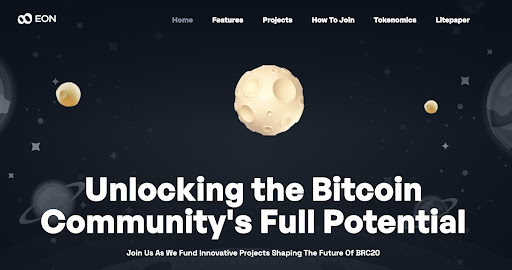 Eonstarter, one of the very first IDO platforms on the Bitcoin BRC20 blockchain, is thrilled to announce the whitepaper release and website launch.
The Bitcoin blockchain has been seeing some usage spikes over the past few months due to the introduction of ordinals and BRC20 token standard on the layer 1 blockchain leading to the network being congested for days and valuations nearing the $1B mark.
On the Litepaper, Eonstarter laid out it's plans to build a revolutionary BRC20-based IDO launch platform and their quest to become the preferred launchpad for groundbreaking blockchain projects on the Bitcoin blockchain.
"Eonstarter aims to shatter this mold, unlocking long-term possibilities and steering the market towards a simplified and unified experience with a robust suite of DeFi services tailored specifically for the Bitcoin and BRC20 Ecosystem."
Eonstarter's suite of products includes a token locking and staking feature which will allow BRC20 projects to set up a staking pool, enabling their holders to stake their tokens and earn more tokens.
$EONS Utility Token
Eonstarter utility token $EONS, built on the Bitcoin blockchain with a total supply of 100 million will be used within the Eonstarter ecosystem.
Holders of $EONS can stake their tokens to participate in up coming IDOs on Eonstarter while also having the ability to stake tokens to farm more $EONS tokens.
Another utility of the $EONS tokens in in the governance of the Eonstarter ecosystem.
An initial private round for early birds who would want to acquire $EONS tokens is live. Interested participants should reach out to to [email protected].
The $EONS token sale will be conducted in three phases: a private round, a presale, and a public sale before listing on multiple exchanges.
Vision Ahead
Eonstarter plans to launch their first Cohort of IDOs by the end of Q3 2023 while also giving $EONS token holders the ability to stake their tokens to farm more tokens.
Eonstarter Team
The team behind Eonstarter consists of seasoned developers and blockchain experts with multiple years of experience building in the defi space. The team members are poised to use blockchain technology to build disruptive products.
For more information, reach out to [email protected]
Follow Eonstarter On Social Media
Website: https://eonstarter.com
Twitter: https://twitter.com/eonstarter
Blog: https://eonstarter.medium.com/
Telegram: https://t.me/eonstarter
Media Contact
Company: Eonstarter
Contact Name: Raven Taylor
E-mail: [email protected]
Location: US/NY